The finest mobile disco entertainment…
For our disco hire service we select hardware for events upon visual and also acoustics demands. Customers can describe their needs because combinations are endless. Also since new systems often replace old. 
Mostly private hire falls into two categories. The "Gold Standard" and "Mini-Disco" Packages. I sometimes refer back to these example photos in calls because they're of typical events.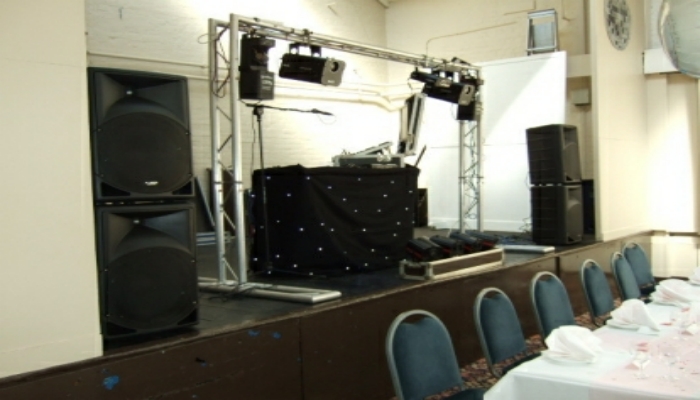 Flexible disco hire services…
A "Mini-Disco" package is mostly for smaller parties in rooms of up to 70 guests. Although slightly cheaper, it's more about space saving. Guests find these less overwhelming. They mostly have half the sound and light output of the "Gold Standard."
Here a "Gold Standard" package is on a stage but could be against a wall. The "Mini-Disco" can squeeze into a corner spot. Useful for a house party or the bar area of a public house.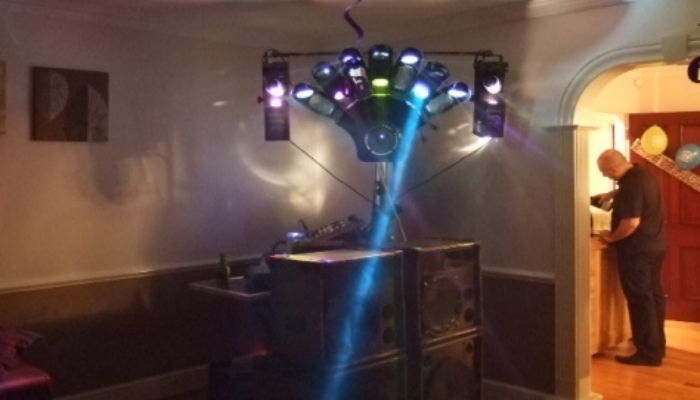 Disco hire for larger events…
Corporate and public event clients have two larger package sizes if required. The "De-Luxe" packages are even more tailored to the event and venue.
"De-Luxe" packages can include architectural, mood or ambient lighting matching the client's colour scheme. Discussing customer requirements we also supply dance floors as well as a variety of other upgrades.
Finally "Theatre Packages" are available for large stages. Indoor or outdoor mobile staging can also be provided. These specialist packages are arranged and staffed through our sister Company 'Gigabeats UK.'
"great discos are not cheap! ~ cheap discos are not great!" 

This well known phrase is true but the difference in price is not great! Pro DJ's rely on more work as opposed to higher fees. Please be sure to read some of our client reviews before trying to save just a few pounds.